SMS Backup
SMS Backup is a complete text message backup and restore solution for BlackBerry 10 devices. Whether you want to backup your text messages or want to import and merge your (old) text messages from a BlackBerry 10 device or other smartphone devices [1], SMS Backup is here to help you.
Features
Backup text messages (SMS) to an open XML format
Backup media content from MMS
Checks for duplicates on import
Clear all your text messages (Safely remove all text messages)
Export text messages to a CSV file that you can view, sort and print in a spreadsheet application such as Excel
The easiest way to migrate from Android to BlackBerry10 (and vice versa)!
View backup file/conversations in browser (Internet Explorer/Firefox)
[1] The XML format allows you to import and export to other platforms as well:
This tool should be very useful for people who:
switch OS versions often (i.e. Testing leaks)
need to switch between BB10 devices (upgrading/replacements)
are migrating to or from Android devices
want to archive conversations
want to view/print messages on their computer
need a more reliable alternative to BB Link which seems to have issues when restoring from different OS versions
Required permissions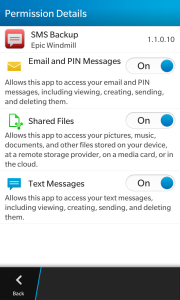 This app requires the following permissions to work correctly:
Email and PIN Messages
This permission is required to list, read and access your accounts
Shared Files
This permission is required to read and store the backup files
Text Messages
This permission is required to access your text message account
Run When Backgrounded
This permissions is required to allow the app to import/export while running in the background
Where to get it?
BlackBerry World:
SMS Backup for BB10
CrackBerry Forums Support/Feedback Topic:
SMS Backup – Backup and Restore Text Messages
Screenshots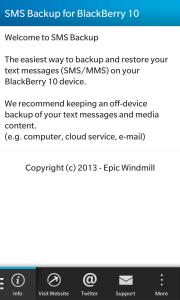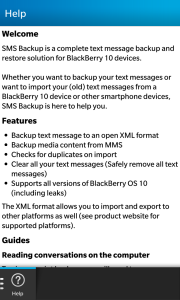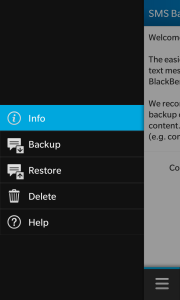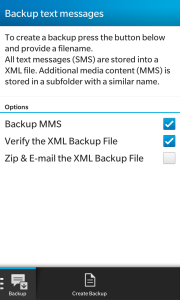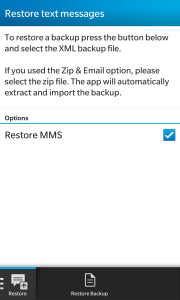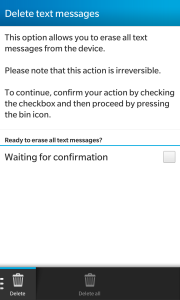 Guides
Reading conversations on the computer
Copy the backup file (yourbackupfilename.xml) and stylesheet file (sms.xsl) to the computer
Right click on the file
Open with… Internet Explorer or Firefox
Do note that the XML and XSL files need to be in the same directory for this to work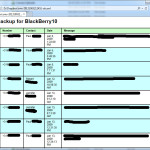 Or watch this video:

Exporting text messages
Switch to the Backup tab

Touch the "Backup" button
Specify a filename (we recommend including the date)
The backup file will be stored on the device in the folder "documents/SMSBackup"
You can either e-mail the file or connect the device to your computer to archive it.
Importing text messages
Switch to the Restore tab

Touch the "Restore" button
Use the filemanager to select your backup file (*.xml)
After picking your file, SMS Backup will start importing the messages
This might take a while depending on the number of archived messages
Android Guides
Exporting to Android
Folow the instructions above
Copy the XML file from the BlackBerry 10 device to the Android device
Choose the Restore option in SMS Backup & Restore.
Importing from Android
Install SMS Backup and Restore onto your Android device
Open up the application and choose Backup

Specify a filename

Wait for the application to finish

All messages have been exported

Copy the backup XML file from your Android device e.g. X:\SMSBackupRestore to your BlackBerry 10 device
Follow the instructions from Importing text messages